More Than a Convenient Bride (Texas Cattleman's Club: After the Storm Book 6) by Michelle Celmer
This title will be auto-delivered to your Kindle on March 1, 2015.
A story of friends…with marriage benefits, by USA TODAY bestselling author Michelle Celmer
After all they've been through following the tornado that hit their Texas town, there's no way Dr. Lucas Wakefield will let his best friend, Julie Kingston, leave because of a green card mix-up. The only solution is to propose marriage. But what starts as a platonic arrangement quickly blooms into red-hot desire—until Luc's ex-fiancée returns to reclaim her man and Julie questions whether happily-ever-after is in the cards. Good thing Luc has no intention of giving up his passionate new bride without a fight!
Be sure to read other scandalous stories from the Texas Cattleman's Club: After the Storm series, only from Harlequin® Desire!
STRANDED WITH THE RANCHER by USA TODAY bestseller Janice Maynard
SHELTERED BY THE MILLIONAIRE by USA TODAY bestseller Catherine Mann
PREGNANT BY THE TEXAN by USA TODAY bestseller Sara Orwig
BECAUSE OF THE BABY… by Cat Schield
MORE THAN A CONVENIENT BRIDE by USA TODAY bestseller Michelle Celmer
FOR HIS BROTHER'S WIFE by USA TODAY bestseller Kathie DeNosky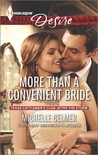 More Than a Convenient Bride by Michelle Celmer
My rating: 5 of 5 stars
*I received this book free in exchange for an honest review.*
I have to say, I love these new series, where each book is a different author. I love this series! I read Stranded with the Rancher, and it was nice to see some characters make appearances in this book! You get different voices from different authors and it's a great book. This is a sexy romance with lots of western flair!
You can't help but giggle at Houdini. For a minute, I hated Amelia. But, this is a great best friend romance! Julie was stubborn and pig headed, but, can Luc bring her around? You need to read this book! Though a series, you can read these stand alone, but I wouldn't suggest it! Read them all! Now!
View all my reviews